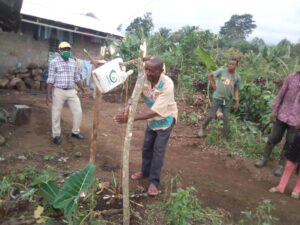 As part of a coalition led by LUKMEF and funded by STREET Child Uk coupled with funds from All We Can UK, NADEV launched activities to stop the spread of the dreaded COVID 19 pandemic in peri urban and rural communities in Fako beginning late March 2020.
The initiative has focused in the early stages of the spread in the South West Region, on sensitizing the population on three key areas: how the virus is spread, what they must do to protect themselves from contracting it, and what to do if anyone around them exhibits symptoms of the disease.
This is being done through pasting of posters, practical demonstrations on hand washing, the making of local hand sanitizers, and the distribution of face masks. So far over 22000 persons have been reached in some 24 communities like Tole, Mekongi, Mondoni, Moquo, Batoke, Mukumdange, Mile 14 in Buea, Limbe II and Tiko Sub Divisions, 1000 posters were printed and pasted in the 24 communities, 68 volunteers identified and trained to paste posters, stickers, set up simple water dispensing stations, 3000 masks shared in communities, 10 hand washing stations with buckets and soap set up and 30 tippy taps installed in different communities.
In the course of the sensitization, the Divisional Officer for Limbe 2 and the District Medical Officer opted for the installation of the simplified tippy tap in front of their offices. They said they were simple and easily replicable and encouraged onlookers to copy from them.
Challenges encountered include denial by some people who want to belief doubtful social media sources, resistance to government measures, for instance non respect of numbers at public gatherings, lack of money to buy face masks and poor use of the masks for those who can find them.
NADEV and its partners are continuing, though, undaunted with the project as we see it as a matter of life and death for all of us.