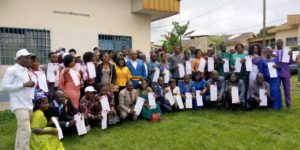 28 "Come-we-stay" Couples Obtain Marriage Certificates
NADEV has in partnership with the Muyuka Sub-divisional Delegation of Women Empowerment and Family, and Muyuka Council sponsored 28 couples, hitherto cohabiting, to obtain marriage certificates.
Prior to tying the knot, these couples sat through a counseling session at Catholic Church hall Mile 16, Buea during which they received lessons on the importance of marriage certificate and strategies of living happily in marriage. They were also drilled on love, understanding and respect for each other in marriage by the Muyuka Sub-divisional Delegate of Women Empowerment and Family, Madam Arrah Nkongho epse Palah
Presiding over the marriage, the 3rd Deputy Mayor of Muyuka Council, Mr. Otto Ebonge, appreciated the couples for taking a bold step, also reminding them of the responsibility of the Council, which is "to join, and celebrate with them, and not to separate".  On his part, the Civil Status Registrar for Muyuka underscored the importance of a marriage certificate, and other civil status registry documents.
This gesture from NADEV and partners was greeted with lots of gratitude and joy by the couples. "We heartily thank NADEV for this support. When we heard about it, we thought it was a joke but it became a reality. Also, it came in time because we had already made arrangements for our traditional marriage this same month but did not have sufficient funds to legalize it. So with this support, we had the opportunity to legalize the marriage," Mr. and Mrs. Tekwa Elvis, one of the couples testified.